Willits Brothers Paddles
---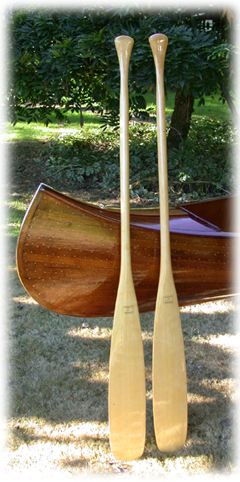 The Willits brothers made their own paddles to propel their canoes. They were machine made of Sitka spruce and were amazingly consistent in size, shape, and quality. To accommodate machining they offered only three paddle lengths - 4 1/2, 5, and 5 1/2 feet. I can't reproduce the exact machining that they executed, but I can make a hand-carved version. Because I'm not tied to a machine template I can make any length paddle you desire. Each paddle is finished to perfection with multiple coats of spar varnish. These paddles are must-haves for owners of Willits canoes. Come to think of it, they are a great paddle for anyone!
Prices
Sitka spruce
$200
Other woods
Inquire
All prices are subject to change without notice.
Terms
A $50 deposit is required when ordering paddles and is fully refundable if the order is cancelled prior to the start of construction. Otherwise, deposits are nonrefundable. Balance is due prior to pickup or delivery.
---

---
The Wooden Canoe Heritage Association hosts my website and I'm a proud member. If you aren't already a member, you should be. Click here.
All pages © Copyright 2021 McFarland Lake Canoe Company